AUTODESK FORMA IS COMING ON THE 8TH OF MAY. WILL IT BE THE DEATH OF REVIT?
2023-04-18
Revit 2024 has been released recently. During the release week, Autodesk set a date for the release of their cloud solution for the AEC industry: Autodesk Forma. Everyone was so busy checking out Revit's new feature to a point where the Forma announcement was completely overlooked.
Autodesk Forma will be revealed and released on the 8th of May. It was first announced at Autodesk University 2022, as a cloud solution for the AEC sector. Here's what to expect, based on what we learned at AU and based on all the public information that we know so far. Note that all of the following are conclusions based on publicly available information. We do not have nor are we releasing any extra inside information about Forma.
Forma will consist of a series of cloud solutions dedicated to the AEC industry. One of those solutions is the Autodesk Construction Cloud which most are familiar with already.
Another one that will apparently be part of Forma for this first release will be Spacemaker, a cloud generative design solution that Autodesk acquired a couple of years ago and that will now be part of Forma.
Based on what we know, several data connectors based on "Autodesk Platform Solutions" (a.k.a APS, formerly known as Forge) APIs will also be a major part of Forma, ensuring internal interoperability between all the Autodesk services involved with Forma, and external interoperability between Forma and other third-party solutions, such as Rhino for example.
One question comes to mind: will all that mean that Revit is now dead?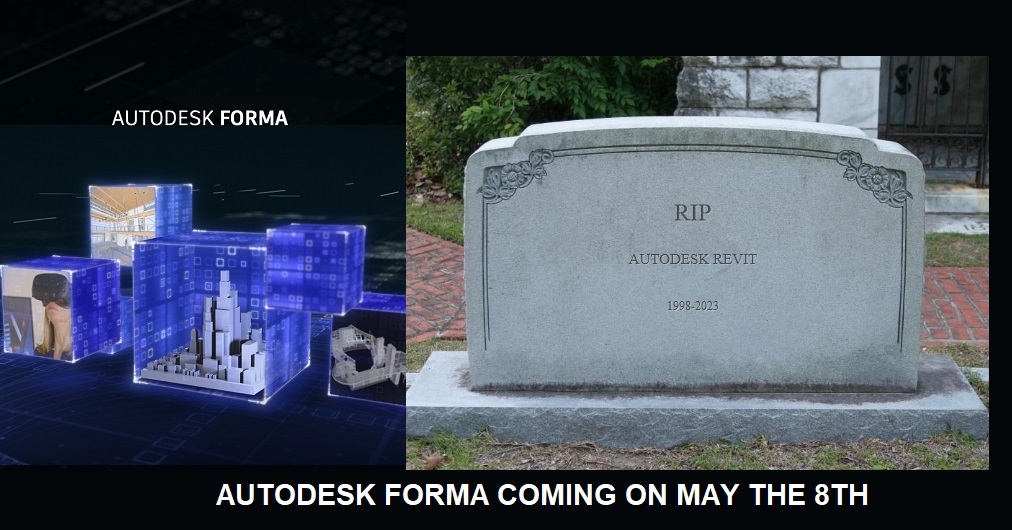 Actually, no. Autodesk will continue investing in Revit and Revit will be part of Forma, as a desktop client that will be compatible with the ACC (which it already is) and which will be connected to other Forma services such as Spacemaker, through several data connector. Some of these connectors, such as the Revit-Spacemaker one, have already been made available along with the latest 2024 release.
As for how long Revit will remain relevant, that's still unclear, although in my own opinion, we're looking at at least 10 additional years of Revit as we currently know it.
One thing is for sure, Forma will be heavily dependent on the APS, which will play a major role in the evolution of computation within the AEC industry. We're glad that we have been investing time in integrating APS APIs into our own apps, which makes us now more than ready for what's coming: seven of our ten previously released apps will be powered by APS APIs once their next release (with support for Revit 2024) goes public (which is happening very soon), and we are working on 2 APS based projects, one that will integrate within Forma and one that will enhance Revit's interoperability with Forma's own services. Both should be coming in late Q3, early Q4, so stay tuned…
In the meantime, we will be eagerly looking forward to the Forma release event to confirm how accurate the expectations that we enumerated in this blog post were. You can find additional information about the Autodesk Forma release here.
We want to hear your opinion. Any feedback, comments, or questions you may have, just contact us at info@birdtools-developers.com