YES! BIRD TOOLS WILL BE FEATURED AT AUTODESK UNIVERSITY 2021!
2021-06-04
June the 4th has been a great day here at Bird Tools! First, a great episode of Danamo Chats was released today about MEP automation, where Taco Pover, Sean Fruin, and I (Majd) are featured by the awesome, one and only, Dana! This episode deserves its own summarizing post which is coming early on next week.
Then, the Autodesk University Class Proposal approvals were revealed today, and guess what: they came positive for us!
So yes, I will be there in October to showcase the multiple automation processes that you can achieve when you go advanced enough beyond Dynamo, mainly focusing on Forge, which is a (if not the) future platform for the AEC industry, and processes available through alternative Revit API automation forms such as add-in packages and macros that Dynamo still doesn't expose, along with some real-case working examples that we've developed.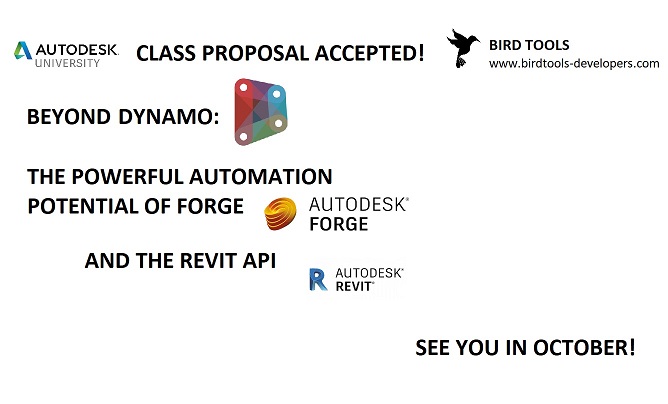 Here's a link to the accepted class:
Beyond Dynamo: the powerful automation potential of Forge and the Revit API
For those of you who voted for this class, thank you! Make sure not to miss it!
For those of you who voted for the rest of my class proposals, don't worry. Just keep an eye on our:
…and I'll make sure to make the other four proposals happen, turning them into detailed video recordings. Maybe even broadcast them as a live webinar series!
Cheers, and see you in October!
We want to hear your opinion. Any feedback, comments, or questions you may have, just contact us at info@birdtools-developers.com