ALL BIRD TOOLS APPS ARE FREE FOR EDUCATIONAL USE
2022-06-29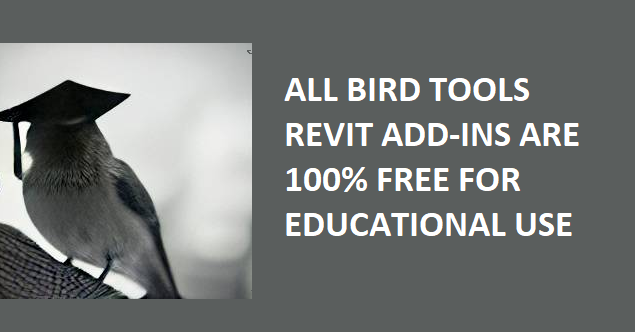 This is an announcement that is a bit overdue, but better be late than never.
Our subscription-based apps have always been free for educational use. Therefore, if you are a student or an educator or a researcher with a Revit educational license, you can get free access to all of our tools.
Your license would be tied to your educational email address.
If your educational institution's domain name has an "EDU" extension (ex: schoolofbirds.edu), you don't need to do anything besides downloading the tools' installers from the Autodesk App Store using that email address, as all websites with the "EDU" extension are already whitelisted. Our products page can refer you to any product you would like to download: https://www.birdtools-developers.com/shop.html
If not, just contact us at info@birdtools-developers.com and we'll take care of whitelisting your educational institution's website.
Hoping to make a different for anyone learning or spreading knowledge about BIM…
We want to hear your opinion. Any feedback, comments, or questions you may have, just contact us at info@birdtools-developers.com