BIM COORDINATORS SUMMIT 2022 GIVEAWAY
2022-09-06
As you may be aware, we are proud silver sponsors of the highly anticipated BIM Coordinators Summit this year, which will take place in Ireland on the 8th of September.
As a token of appreciation, support and recognition of all BIM managers and coordinators that will be attending the summit this year, we will be offering a giveaway of all of our tools: as long as you are attending the summit, whether virtually or in person, you would be eligible for a free forever license to all of our Revit add-ons. Note that this giveaway is valid for 1 person per company/domain name.
To benefit from this giveaway, just make sure to visit our virtual booth (which can be found under the "exhibitors" section of the "Airmeet" virtual platform of the event) and to claim the offer by hitting the "I'm Interested" button that may be found under the "Claim Lifetime Free Access" pop-up that would show up there. Make sure you're signed up for the event when you do so!
We'll then contact you by email after the event concludes and help you claim the free lifetime licenses.
Here's a link to the event's Virtual Platform: BIM COORDINATORS SUMMIT VIRTUAL EVENT PORTAL
You can register for the event here: https://www.bimcoordinatorsummit.net/event-details/bim-coordinator-summit-2022
We'd also appreciate it if you could upvote our virtual booth as the best virtual booth of the event! Here's a link to the voting form: Best BIM Coordinators Summit Virtual Booth. The form will be available throughout the event.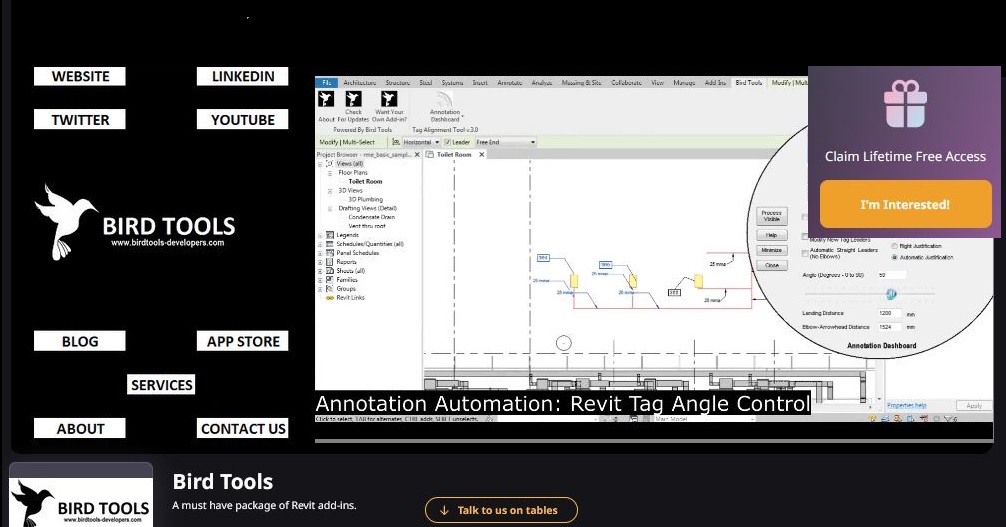 Cheers, and until next year!
We want to hear your opinion. Any feedback, comments, or questions you may have, just contact us at info@birdtools-developers.com