REVIT 2023 SUPPORT ADDED TO ALL BIRD TOOLS APPS
2022-10-17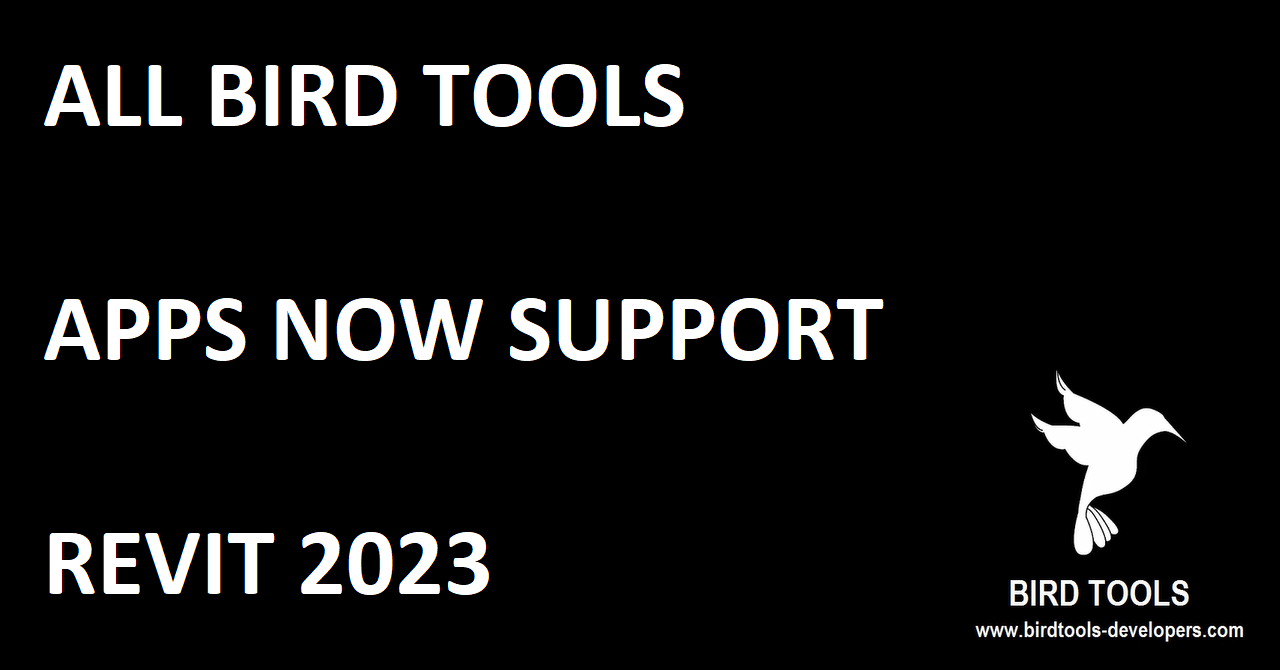 First, let me start by thanking all of our users for their patience. (In other words, please forgive us, for we have sinned!)
This update comes a bit late for many reasons that will be stated below. However, better late than never.
All apps now support Revit 2023.
The new version of each tool is now available on our website. The updates have also been submitted to the Autodesk App Store and will be available there as well as soon as the review process is complete.
You may find and download the tools here.
Some minor reasons why this took a bit longer than usual are, first, us being insanely busy with custom development projects. Another would be the long time required by the Autodesk App Store reviewers to review the apps, which drove us to build our own download platform where we will be posting updates and hotfixes and have them become available instantaneously to our users so that no one will have to wait for too long for that review process to end. The tools will also be available on the Autodesk App Store, but this is a way for us to make new versions available to users in a more instantaneous fashion.
The main reason for the delay though is us wanting the updates to include new features and to be more efficient and more stable, which took us a good deal of research that ended up with the use of several undocumented and non-exposed API methods, whether related to Revit, APS (a.k.a Forge) (two apps are now powered by Forge and at least four will be benefiting from a couple of Forge functionalities in the near future that we have successfully integrated internally but that we delayed a bit so that we don't keep users waiting for the new updates), or even AutoCAD. We even built a couple of very exciting new low-level geometry processing APIs to make some of our non-feasible user requests possible, and which we feel will be handy in the near future for some potential big ideas that we are considering, and that may be independent of Autodesk products and APIs. We're very proud and excited about those and can't wait to reveal them!
Throughout the coming weeks, we will be announcing those features and those updates for every app. For now, feel free to discover them yourselves and don't hesitate to reach out with feedback.
Cheers!
We want to hear your opinion. Any feedback, comments, or questions you may have, just contact us at info@birdtools-developers.com