NO MORE CUSTOMIZATION SERVICES AT BIRD OÜ: WE ARE NOW EXCLUSIVELY A PRODUCT AND PLATFORM ORIENTED BUSINESS.
2023-01-09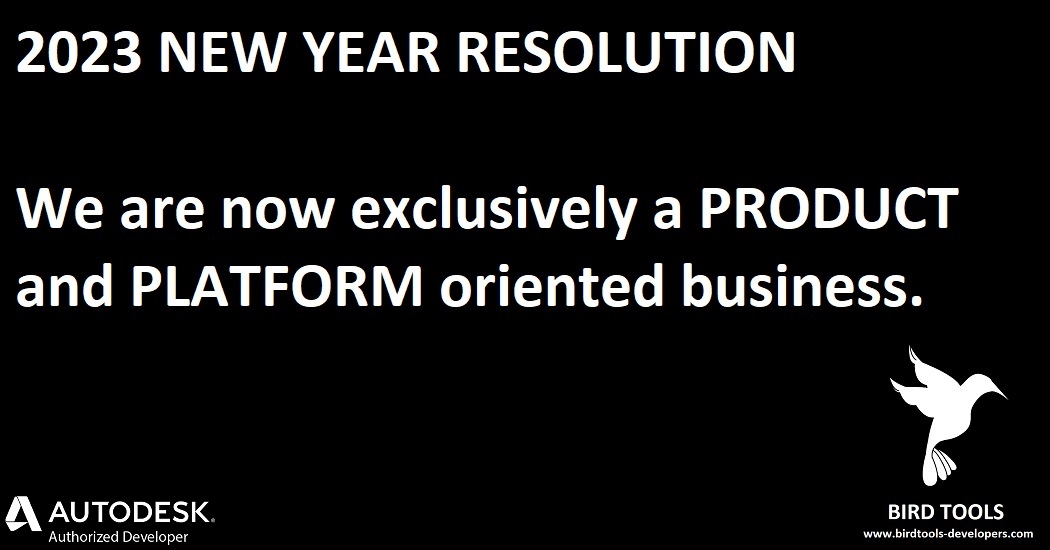 The beginning of every year is a time of reflection and renewal for everyone. This year is no exception and we have ended up with some important, internally disruptive resolutions.
The decision that we came up with is to shift our business model from one that is based on both public software products and software customization services into one that is solely based on the development of public software products and platforms.
Effective immediately, we are discontinuing all custom development services that we used to provide in the past and have stopped accepting any new custom development jobs while starting to work on completing all ongoing ones, a process that should be completely over in a couple of months.
There are several reasons behind that decision, but the main one is that we want to dedicate our focus on Bird Tools as a collection of software products and introduce many new innovative features that we have been postponing previously in order to keep up with the increasing demand that is being gathered by Bird Tools as one of the most popular packages of Revit add-ins with every passing day. We also have several products and tools in the making that we want to fully focus on that the industry is in desperate need of. More information about these will be gradually revealed in the near future.
The product part of our new business model should be straightforward enough, but you must be wondering about what we mean by "platform".
Well, going forward, we will be, and in addition to our packaged software solutions, developing and opening up several of our findings into open APIs and developer tools that our fellow technologists and developers can benefit of. Some would be intermediary APIs that should simplify other APIs and make them more accessible, others would be original APIs that we have built from scratch. Our platform vision is more of a multi-year process though and won't be going into effect immediately as it would have to wait for the complete discontinuation of the service side of the business and for the full establishment of the infrastructure over which they would be hosted. Stay tuned for more information though!
We are pretty excited to be going forward in this direction as we feel that it serves our purpose better, which is to drive change within our industry and to help the whole AEC community grow into a more innovative one.
We want to hear your opinion. Any feedback, comments, or questions you may have, just contact us at info@birdtools-developers.com